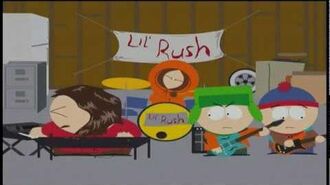 Lil' Rush is an exclusive short animation created for the Canadian rock band Rush. The short was shown as the opening to the song "Tom Sawyer" on the band's Snakes & Arrows Tour in 2007. The concert DVD also features the clip.
In the sketch, Cartman sings the song "Tom Sawyer" with incorrect lyrics, confusing Tom Saywer with Huckleberry Finn, leading to an argument with Kyle. As they restart the song, the real Rush takes over during the concert.
Members
Lil' Rush is comprised of:
The roles of the boys do not match up exactly with the real Rush. Geddy Lee plays keyboards, bass guitar, and vocals. These roles are split up between Kyle, who plays the bass guitar, and Cartman, who plays keyboards and does the vocals.
Trivia
With the exception of Cartman's keyboard, all the equipment and instruments used are identical to those the boys played in the episode "Christian Rock Hard" as Moop.
A fictional version of Rush appeared in the Season Fifteen episode "Royal Pudding", playing a parody of "Candle in the Wind" called "Fart in the Wind", a song originally performed by Elton John as a tribute to the late Princess Diana. Partway through the performance, Alex Lifeson commits suicide. As Canadians, they appeared with beady eyes and flapping heads.
Matt Stone appeared in Rush: Beyond the Lighted Stage, a documentary about Rush, speaking of why he is a fan of the band.[1]The admiration is mutual; Rush are also fans of South Park and recorded a congratulatory message for the show's 200th episode.[2]Drummer Neil Peart also detailed his friendship with Stone and Trey Parker in his memoir Ghost Rider: Travels on the Healing Road.
Additionally, Geddy Lee and Alex Lifeson performed a rendition of "O Canada" (accompanied by Terrance and Phillip) on the South Park: Bigger, Longer & Uncut soundtrack album.
During a scene in Orgazmo, Matt Stone's character is taking a group photo. He tells the group to say "Geddy Lee". When Parker's character asks who Geddy Lee is, Stone's character replies "Geddy Lee, best bass player ever, come on!".
参考资料